SMASH #4 three-month program
unexpected dresses for undefined ceremonies
Javier Murugarren
Aug 11 – Aug 29, 2014
During a creative process of many phases the costumes most frequently arrive at an advanced stage. How I begin to work is with an alternative approach. The costumes and tissues 'who' help me to define the performance material, act as garments that invite me to create the action. I perceive them as stand-by entities, personalities awaiting stories to inhabit them.

This module investigates the performance creation-processes by engaging in the relationship of bodies, textile tissues and outfits.
Given the importance of clothing as a strong cultural signifier, and because of its almost immediate visual transmission of meaning and identification, costuming for this project will be given the essential attention to begin an individual creation process, which will evolve organically into a collective experience.
Costumes will be designed and/or transformed specifically for this work by all the participants, in conjunction with the developing of conceptual and physical research. The goal will be to discover through experimentation the costuming that will foster and support the other dynamic and relational aims of the work. We will facilitate the participants with basic techniques of understanding the construction and redefinition of their own set of garments.
This will lead to the creation and development of performance material. Importance will be given to handwork, simple techniques of cutting, pasting, transforming and rearranging.
Primal ideas of pattern work will also be introduced to understand the transfer from bi-dimensional (paper) to tri-dimensional practice (body/space).

experiential research on costuming
We will explore varied approaches to generating material that is adaptable and can be engaged in a performance structure. Research methods will include:
- Investigating materials, uses, colours, poetics and meanings; their transformation and adaptation to bodies and spaces.
- Researching the scenographic realm throughout use of tissues beyond the limits of a specified performance space. Experiencing the potential of fabrics to generate, define and to further transform spaces.
- Use of established fashion dynamics as a source of inspiration, criticism and analysis. Movement semiotics, visual language and aesthetical conceptualisation.
- Comparing elements of catwalk and presence, as well as issues related to mass production and craftsmanship, globalisation and ethics, trends and authenticity.
physical research
In order to sharpen our body awareness we will dedicate every daytime to physical group training. A close eye will be kept on visual and conceptual material that can be applied to the physical research. We will try to connect pattern-making ideas with movement and anatomy through analysing and using the significance of body measurements, which will be used to deconstruct and reproduce body shapes. Specific partnering and manipulation exercises will help us to stay kinetically hungry and promote spatial awareness of other individuals. Partnering will also facilitate the analysis of textile behaviour on other bodies. It will also add accurate sensory information on the primal-tissue´s consciousness: the skin. We will also experiment with modes of interaction: using the differences and the cultural backgrounds of each performer to find new/alternative ways of being in contact, communicating, improvising and forming group dynamics. And finally we will flirt with linguistic and textual research: the exploration and creation of language(s) and texts (written, spoken, sung etc) will be directly inspired and nourished by the development of our textile creations.
Parallel to the atelier experience we will investigate the relationship between the created items and their performer. Consequently we will aim to achieve two parallel dynamics where the development, the shape and the content of the making of the former (costume) will affect directly the identity of the latter (performer). At this point, the introduction of movement tasks, individual/group improvisations, discussions, readings, sound texts and video screening will give us the chance to investigate the imagery´s form or anti-form. Moreover, maintaining the goal of achieving a plastic and aesthetic coherence.
what you need to bring
Since this workshop will require a certain hands-on engagement with the craft, it is essential that you bring a minimum set of the following materials: Scissors (for cloth), paper, pen, needle, thread and only if it's possible, a sewing machine. Tissues, outfits no longer in use, different materials that (might) inspire you (plastic, paper, objects, paint, magazines, left overs of any kind).
Clothes that we love, or we dislike, garments that we feel comfortable with, or even materials that we don't use any more, your grandma's old coat from the 80's, your ex-girlfriend's XXL pyjama, whatever you feel inspired to begin with.


––––––––––––––––––––––––––––––––––––––––––––––––––––––––


the recycling manifesto
Born into a family of costume designers I was always happy with a needle in my hand. Although I never actually touched a sewing machine until I arrived to Amsterdam in 2004 and met with the sailing theatre company Ship of Fools. Their way of living and creating art touched me. I initiated this activity understanding the legacy left by my father, who was a tailor. I like to think that his craft was passed to me. With my first sewing machine I started to work on the daily leftovers of the Waterlooplein market in Amsterdam, recomposing old or unwanted outfits into something I found beautiful by the simple fact of giving new life to the waste. Here I found a space for inspiration. The following years were of personal experimentation and research with different textile professionals. In September 2007 I presented in Amsterdam the first costume performance of an on-going series. This idea of recycling, reutilisation and transfer drew me to ponder on ethical considerations. Analysing the on-going relation of beauty and waste, capitalism functioning structures and excess expenditure, as well as my drive to continuously revitalise my performing frame, ultimately led me to embrace such craftsmanship.


––––––––––––––––––––––––––––––––––––––––––––––––––––––––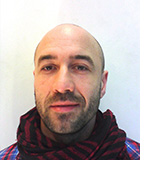 Javier Murrugarren, formerly a Sea Sciences student in the Canary Islands, landed in the performance world in 1996. A pivotal encounter with El Ojo de la Faraona Dance Company resulted in a decision to pursue performance and movement research. This brought Javier to Amsterdam, where he received a bachelor degree (2008) in 'Dance and Choreography' from School for New Dance Development (SNDO). Javier's work draws on a range of performance practices, including improvisation, choreography, cabaret, music, puppetry, video, and costume design. He understands the performing body as "a tool for an on-going process of learning and adaptation." His work has been presented in numerous venues internationally. He is a founder member of the Instant Collective (2006), an Amsterdam based performance troupe. He also organizes Inkietas, an annual urban performance festival, in his hometown of Estella, in the Basque country of Spain. Other remarkable collaborative works have been made with Compaignie faim de siècle / Ibrahim Quraishi (Paris/NY), Trust company (South Korea), Duda Paiva (NL), Azart-Ship of Fools (NL), Meekers (NL), Maas (NL) and Ricciotti ensemble (NL).


website
www.murugalas.com


––––––––––––––––––––––––––––––––––––––––––––––––––––––––

photos:
Kike Balenzategui
Jose J.Torres
Daniel Cohen


––––––––––––––––––––––––––––––––––––––––––––––––––––––––
home - SMASH #3 - SMASH #4 - SMASH #5